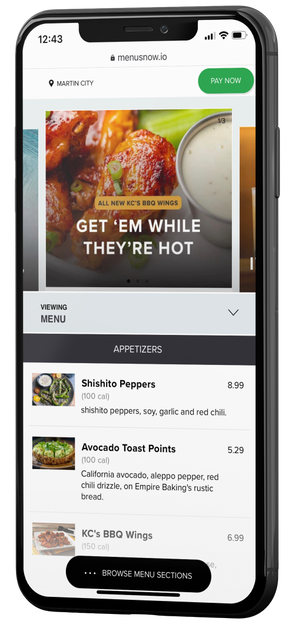 There has never been a time when cost controls and bottom-line profitability were more important. On premise dining has taken a beating as fast casual and full-service restaurants have been constrained by pandemic social distancing restrictions. Balancing immediate needs and long-term investments is challenging at a time when every restaurant technology company is promising contactless menus and digital solutions. What matters most is working with trusted partners who have the knowledge, experience and expertise to improve guests' dining experiences and the flexibility to work with existing contactless ordering and payment solutions.
Trabon's MenuNet platform provides a single source of proofed and approved menu content and presentations for every menu type. Using MenuNet restaurant operators can manage contactless menus using the same platform that manages their menus across all brand channels including digital, online ordering, third-party delivery, curbside pickup, take out, digital menu boards, kiosk, and print menus. Menu items, descriptions, pricing and artwork are seamlessly integrated within the platform and can be adjusted to meet specific needs such as price adjustments for DoorDash, Uber Eats, Google My Business and other online and third-party delivery sites.
Restaurant operations and dining room COVID19 social distancing and safety measures are enhanced with contactless menus accessed via NFC-enabled table sensors or QR codes. Using their own mobile devices guests see menus designed to drive bottom-line profitability and check averages with menu item photographs, featured items and pairings, promotions and nutrition facts. Brands are assured to be able to fashion the exact on-premise guest dining experience they want.
MenuNet can be integrated with any contactless ordering and contactless payment solution a brand already uses or selects, so that on-premise dining provides the desired contactless guest experience.
MenuNet is the only omni-channel restaurant menu management system and publishing platform that works with any ordering solution and contactless payment provider.