Provide QR code menus and print menus as a hybrid menu solution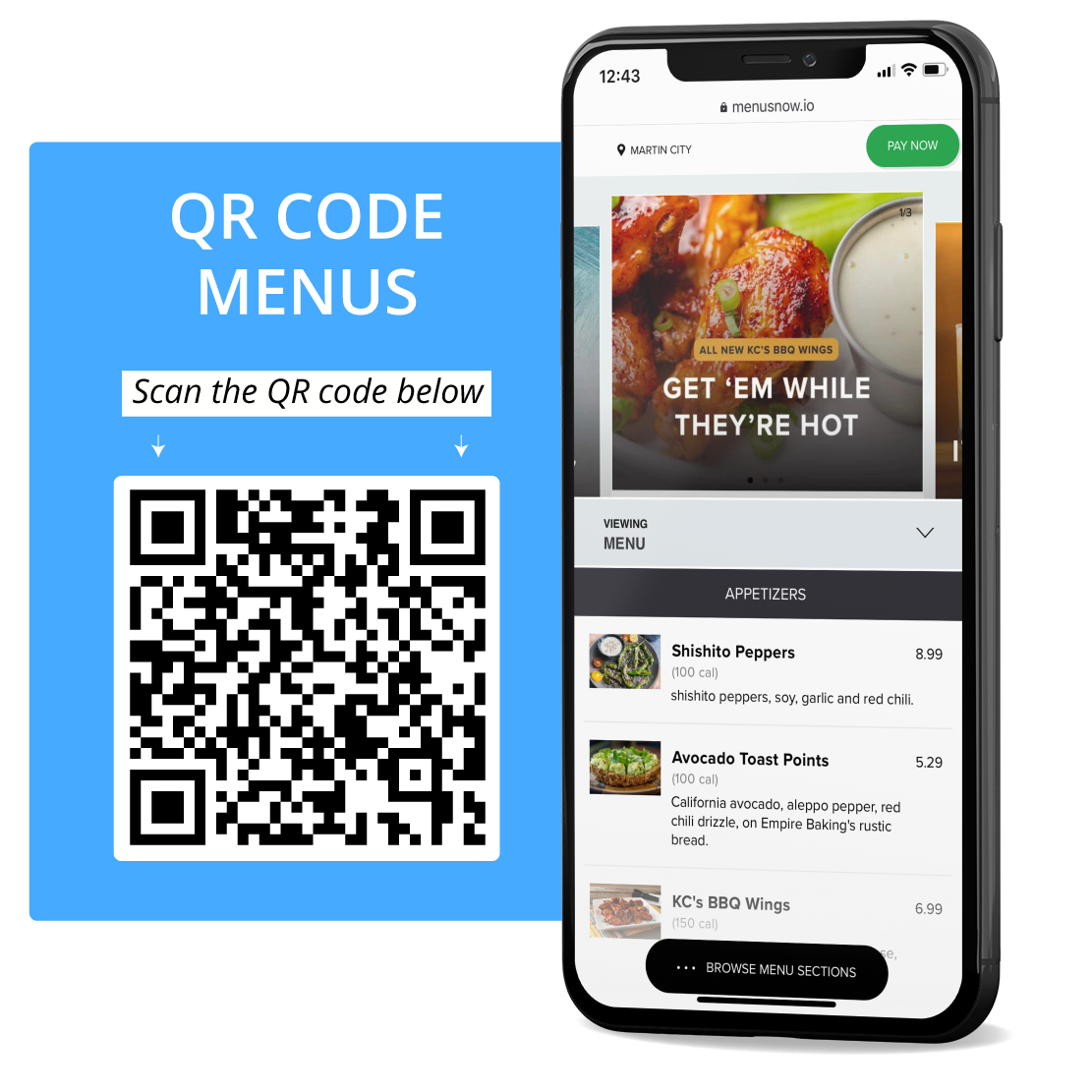 Trabon Group works with thousands of restaurant locations across the country to provide printed menus, as well as QR code menus in a streamlined hybrid approach. Utilizing MenuNet, Trabon Group's proprietary menu management software, a restaurant can manage all of their pricing and selections for both their digital menu and print menu at one time. When it comes time to print the menu, Trabon can also publish the same menu data to your digital menu. Also, Trabon will generate dynamic QR codes that point to your digital menus for every single restaurant location.
QR codes for restaurant menus have become the standard during COVID19. Due to this dependence, Trabon Group began offering dynamic QR codes that allow restaurant brands to pivot quickly with their digital menus. Restaurant brands were spending too much time versioning art files or menu data for both print and digital menu outputs. Often, a QR code menu may have slight differences to the artwork, or simply feature more photos due to the unconstrained size fo the digital menu. This is where Trabon's experience comes into play.
Trabon Group provides an all-in-one solution for managing the new world of digital menus with MenuNet. If you are hosting PDF menus for your contactless menu version, MenuNet can version two art files with the same menu data for your print and digital version. This means you no longer have to send a spreadsheet of pricing by location to your graphic designer to redesign the new QR code menu layout each time you roll out a new campaign. It is unlikely the QR menu will disappear entirely in a post-COVID environment, however, the dependence may wain as restaurants provide traditional laminated menus.
What are the benefits of a QR code menu?
A QR code menu is beneficial for several reasons that are mostly related to the digital nature of the menu. Ultimately each restaurant should determine what is best for their customer experience when choosing print vs digital menus. However, it appears the hybrid approach has been adopted by several restaurant brands due to consumer preferences during COVID19.
QR code menus are easy to generate

A QR code generator is responsible for designing the icon that customers will scan to find the digital menu link. Finding a QR code generator online to create a QR code is relatively easy. That being said, you want to make sure that you are using a reliable QR code service. It is important to consider if the system provides dynamic QR codes, which allow you to change the link in the future if the URL is subject to change. This prevents you from having to reprint your QR codes. Also, make sure that the service provides high resolution QR codes so it prints clearly and is easy to scan the QR code with their camera.

QR code menus are easy to change

QR code menus are easy to change if a restaurant decide it wants to adjust prices, add a new menu item, or simply feature a new food item image. Depending on the service utilized to create the QR menus, a restaurant manager can quickly upload your menu image (A PDF Menu, JPG Menu, or HTLM Menu are all possible) to create the change. Therefore a QR menu can be updated in seconds foregoing the timeline often associated with print menus.

QR code menus are easy to track

Customer traffic utilizing QR code menus can be tracked. Each time you scan the QR code, the visit to the menu will be tallied. This way, the restaurant can determine how many guests prefer the contactless QR menu solution. As the COVID pandemic continues to evolve, a restaurant can track the utilization of print vs. digital menus to determine where future budgets in marketing should be spent.
How does a QR code work?
A QR code is a printed icon that directs users to a website on their phone. During the 2020 COVID outbreak, QR code menus became increasingly popular due to the contactless approach that encouraged social distancing. Also, QR codes no longer require a specific app to download in order to work. By simply opening your default camera app on your Android or iPhone device and pointing it at a QR code, your phone will scan the link provided by the QR code. This will prompt your phone to display a website link that you can simply click to open. Diners, bars, restaurants and hotels direct their customers to QR codes for ordering or viewing the menu. Using a QR code is a quick way to provide a contactless call to action for customers.
What is a dynamic QR Code?
Dynamic QR codes differ from standard QR codes, because they have the ability to change their destination at any given time. A standard QR code can only point to the destination URL that is established at the time of the QR code creation. If you decide to change the URL where your digital menu is hosted you would have to print a new QR code if they are standard.
A dynamic QR code points to a URL that is managed by Trabon. This Trabon managed URL acts as a traffic controller for the QR code. The Trabon managed URL will redirect to you digital menu. This way, if the you change the destination of the digital menu, Trabon will simply point to the new URL with the dynamic QR code service to create a contactless menu.
Menu Management System Provider
MenuNet is menu management software capable of creating a contactless menu from the same content database that powers your print menu. This allows you to have a fully digital QR code menu, allowing you to save time and money. You can rely on Trabon as your menu data provider and QR code generator for creating a contactless menu for your restaurant.
About Trabon Group
Trabon Group is a Kansas City based printing company, providing printed restaurant menus and printed marketing materials since 1950.  Trabon understands that rollouts and promotions are time-critical, laborious processes that involve multiple people and resources and we have the best knowledge and equipment on site to fit almost every need.