Custom Packaging Sleeves
Quality and durable printed packaging sleeves
Trabon Group offers custom packaging sleeve printing for branded boxes and to-go containers. Packaging sleeves are an easy way to brand your product with custom packaging.
What are packaging sleeves?
Packaging sleeves, also known as belly band packaging or box sleeves, have become increasingly popular as a branding and packaging technique. Packaging sleeves are printed paper bands that wrap around a product, such as a box, piece of clothing or other item. These are often less expensive to print compared to custom printed boxes. The paper bands require less material because they do not fully cover the product, however they still provide a high quality and sturdy package for your product.
Full color packaging sleeves are available in several sizes and paper stocks, ranging from gloss coating or matte coating in 80lb to 100lb paper stock or higher. The sleeve packaging can be designed to fit your box size. There are also several options for sealing the band around the box. The sleeve bands can be fitted around the box and fixed together by designing a paper notch on one side of the sleeve that connects to an opening on the other side of the sleeve. Alternatively, there are options for 'peal and seal' adhesives that firmly secure the packaging sleeve around your product.
Packaging sleeve design and quality
The design of your packaging sleeve with ultimately be driven by the size and shape of the box containing your food product. Sometimes the meal kit container is a standard box allowing for a standard packaging sleeve size, also known as a belly band, to be utilized. Other times custom boxes may utilized as a marketing tool for your business. Custom boxes may require a little more preparation and attention to consider when choosing the sleeve packaging design. Either way you can always work with a printing company to ensure the quality and fit of the printed packaging sleeve will suit your standard box or custom box size.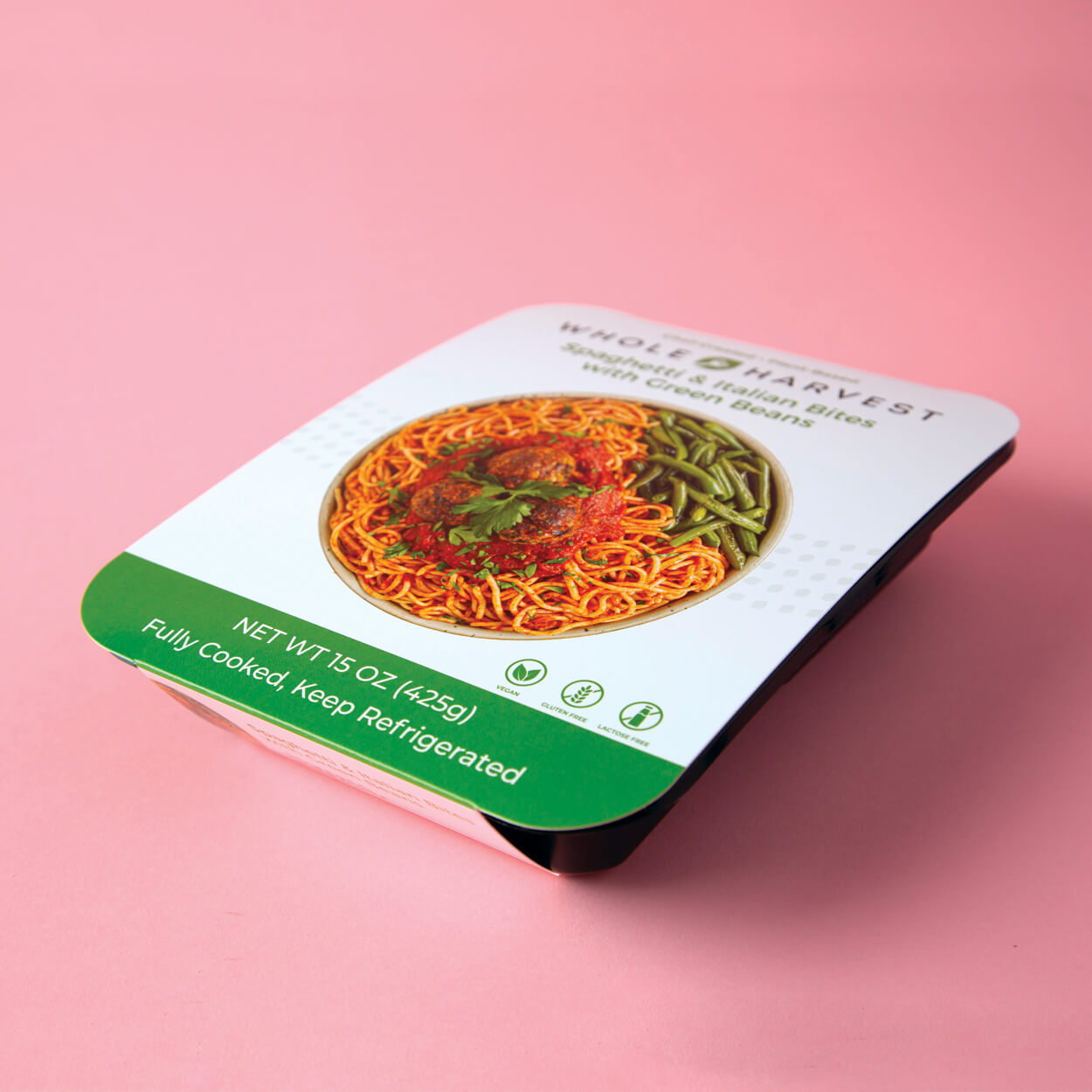 If you have a packaging sleeve design already created and tested on your box dimensions, you can send your print files directly to the manufacturer. The print provider will prep the files in prepress for the print process. This approach leads to faster a turnaround time, because there is no design or testing time required from the print provider.
If you do not have print ready files for your sleeve packaging, then you will work with the printer to design your sleeve dimensions based on your box size. When determining the correct size of the belly band or sleeve packaging, a printer will use paper stock to wrap around your custom or standard box. Where the two ends meet around the box, the printer will mark the location and measure the sleeve length of the paper required to fit snuggly around the box. Then the printer will allow enough overlap of the two sleeve ends so that they can be adhered together in the printing process.
What type of paper should I use for my packaging sleeve?
Depending on the product characteristics and the branding, there are several types of paper you can use for the packaging sleeve. For example, organic products that are packaged individually with paper belly bands may be best paired for recycled, textured paper that is 18 point in thickness or greater. This provides a more natural feel to the packaging. Alternatively, if your packaging sleeves are intended for takeout food orders, you may want to choose a paper stock that displays brighter inks and has a coated finish. These are all decisions you can make when designing your custom packaging.
About Trabon Group
Trabon Group is a Kansas City based commercial printer serving national and local customers with a wide array of print services and packaging solutions. If you are looking for custom packaging sleeves that fit your brand, reach out to Trabon or our sister brand, Sleeve Packaging, for more details. 
From digital press to offset, Trabon maintains a wide array of in-house technology and equipment to fit your needs.
State-of-the-art equipment combined with a robust sourcing network allows for a large assortment of finishing formats.
Variable shipping capabilities, with national and international reach, enable Trabon to ensure your package arrives on time.
Trabon often meets and beats the pricing brands can access due to our relationships and volume purchases.