Restaurant Print Services
Quality and durable printed menus
You have your restaurant, now what? Building a successful enterprise is about more than having mouthwatering food options and a brick and mortar. It also includes the cohesive branding that makes your restaurant recognizable to current and new customers.
From custom restaurant menus to direct mail, to table tents and banners, your restaurant's success is dependent not only on your chefs but on your marketing materials.
Trabon Group's Restaurant Menu +
Marketing Printing Services
At Trabon Group, we have over 45 years of experience providing commercial print services for restaurants seeking high-quality, professionally designed menus. Over 80 national restaurant brands have trusted Trabon Group to create custom menus and additional marketing collateral, with 40 million menus printed annually for our clients.
Our clients trust us to elevate their branding and help take their restaurant to the next level. From take-out and disposable menus to 12-page laminated, folded, and stitched menus, Trabon Group can be your one-stop shop for restaurant menus. The use of in-house digital and offset presses equips Trabon to provide a quick printing turnaround.
From paper stock to synthetic plastics, Trabon Group can print and laminate many substrates commonly utilized for restaurant menus. Trabon Group consistently ensures color brand standards are matched, resulting in color-rich menus and high-quality images with matte or gloss finishes.
Trabon Group's design services don't stop at menus though, because every restaurant needs a holistic set of marketing materials to attract new business.
What Custom Menu and Marketing
Products Trabon Group Offers
As a business owner, you need to focus on assuring quality for your customers, not on building signs, designing custom stickers, or even creating door hangers to advertise. At Trabon Group, we have those projects covered. Our restaurant printing service goes beyond a simple menu, but also includes things like take-out menus, banners, drink coasters, and even window clings.
Your restaurant's brand will help create a lasting impression for customers, and if you operate your eatery with quality in mind, it's also imperative to have quality marketing collateral.
Restaurant Menu Printing
Managing printed menus is often one of the key responsibilities of a restaurant owner. Once you've squared away what delicious food you want to be advertised, then it's time to talk logistics.
Trabon Group's printed offerings include:
Waterproof, Laminated Dine-In Menus. If you're looking for a durable option with assured longevity, this printed menu option is the one for your restaurant. These menus come available in matte or glossy paper finishes and can be wiped down routinely while still preserving the high-quality look and feel. Rest assured knowing that your investment in a full-color custom-designed menu will hold up to the test of time.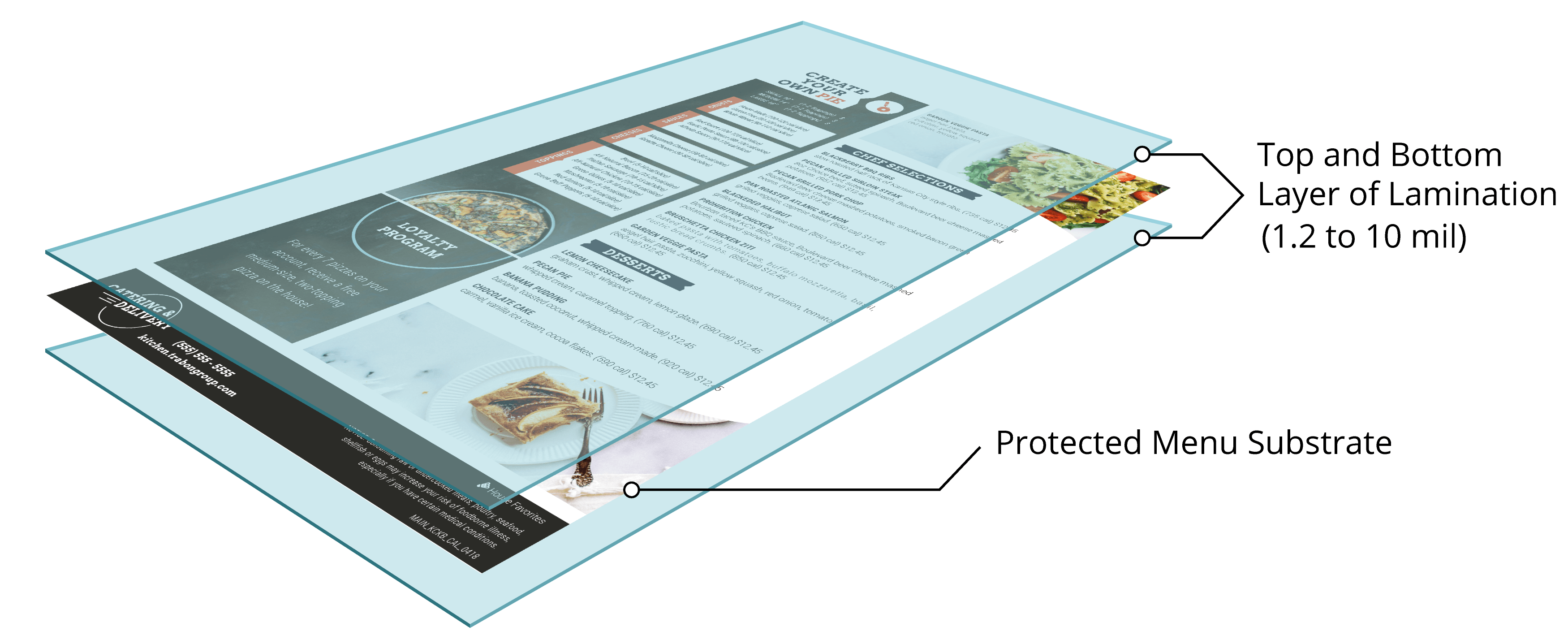 Disposable Menus. Single-use print menus are a quick, complementary addition to a traditional laminated menu. While they come in a variety of options, including bi-fold and tri-fold menus, the most popular option is a single-page, one-sided menu design. As take-out and food delivery services rise in popularity, disposable menus are also an effective marketing tool to get your menu in front of every customer.
QR Code Menus. With the rise in popularity of QR codes, Trabon Group is proud to include QR Code menus as an addition to our printed menus. Utilizing MenuNet, our proprietary menu management software, it is simple to manage your restaurant's pricing and selections with all menus. Trabon Group can also create a dynamic QR code that links directly to each individual restaurant.
Take-Out Menus. From durable tri-fold menus to single-sided styles, we offer take-out menus in all the most popular sizes. While take-out menus are created to be disposable, Trabon Group will utilize its design services to create a high-quality, custom product that does not sacrifice brand standards or lacks full color.
Browse our website to learn more about our company, and how the Trabon Group can help you with your restaurant printing.

Restaurant Print Collateral
It's no secret that the right feature items can drive more customers through the door of your business. Your restaurant's brand needs more than just menu printing to convey a message that turns a passerby into a customer.
Other restaurant printing products that the Trabon Group offers include:
Table Tents. Advertise promotions, drive customers to your website, or even just offer a way for customers to contact you with durable table tents that sit directly in front of customers. Typically, table tents are paper inserts placed between two pieces of plastic, but Trabon Group offers table tents in all of the most popular sizes and styles.
Drink Coasters. One of the most widely used objects by customers, drink coasters also come in a variety of styles and finishes and are highly customizable.
Window Clings
To-Go Boxes
Loyalty Cards
Door Hangers
Stickers
Trabon Group also makes the restaurant printing process easily accessible and simple. Through PrintNet, save hours' worth of valuable time, as restaurant owners can access:
Facilitate menu and collateral reorders
Upload their brand materials to easy-to-use templates
Customize print-on-demand print collateral
Simplifies ordering of items for promotions
Real-time inventory and delivery tracking
Contact live customer support specialists
Learn more about the PrintNet process.
Restaurant Signage
Down to the material, every piece of restaurant signage created with Trabon Group is customizable. Whether you're looking for rustic, wooden signs, metal signs, or even paper or plastic banners and signs, you have the option.
Trabon Group's signage options include window clings and banners, and no signage project is too big or too small.
Each window cling is designed in collaboration with a print specialist who is able to fit each custom window cling to any unique space. These are a cost-effective, nonpermanent, and reusable way to advertise promotions, operating hours, or any other restaurant business-related marketing.
The window clings come complete with a light adhesive layer, which our printing specialists have discovered is more reliable than a traditional static window cling. However, the traditional static window cling option is still provided.
Much like window clings, Trabon Group also offers fully customizable banners in a variety of sizes, finishes, and designs. Each custom banner can be previewed with our online design tool, PrintNet, and our printing turnaround is fast and reliable. See your own design come to life for your business, and upload all of your brand materials to our site to create the banner that your company needs.
Why Choose a Commercial Printing Partner?
Whether you're looking to put the finishing touches on your menu printing, just can't figure out how to get your menus cut to size, or can't seem to find enough space for your current window clings, a commercial printing partner like Trabon Group has the solutions you need.
Our printing service goes beyond menu printing but includes everything you will need on paper or otherwise to focus less on menu management and more on your restaurant's service.
Trabon provides all menu services, ensuring all versions of your menus are in sync for the next rollout. Proprietary software developed by Trabon for over 20 years, known as MenuNet, versions content and distributes it in print and digital outputs. This way, you can make selections for a single campaign and the end result will produce menus, as well as update your website and local listings with correct menu data.
Interested in learning more? Contact with Trabon Group and get in touch with one of our commercial print sales representatives to discover how our services, on and off paper, can help elevate your business.
From digital press to offset, Trabon maintains a wide array of in-house technology and equipment to fit your needs.
State-of-the-art equipment combined with a robust sourcing network allows for a large assortment of finishing formats.
Variable shipping capabilities, with national and international reach, enable Trabon to ensure your package arrives on time.
Did You Know?
Trabon provides digital menu services, ensuring your print and digital menus are in sync for the next rollout. Proprietary software developed by Trabon for over 20 years, known as MenuNet, versions content and distributes it in print and digital outputs. This way, you can make selections for a single campaign and the end result will produce printed menus, as well as update your website and local listings with correct menu data.