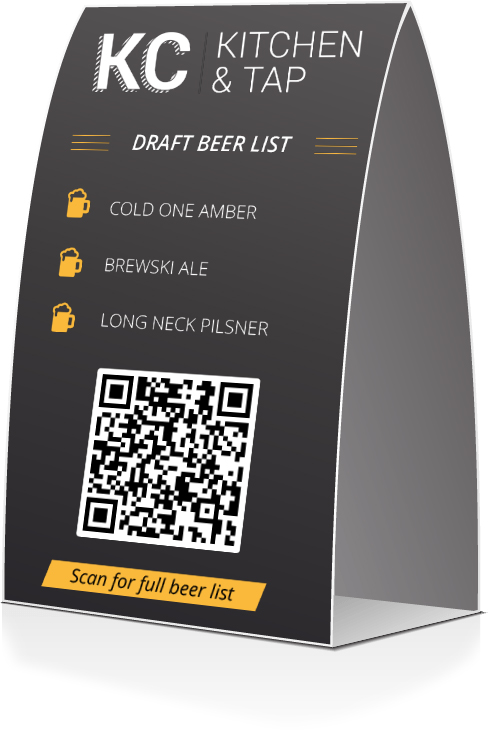 Table tents are a critical marketing component for your table-side promotion strategy. Trabon Group works with over 70+ national restaurant brands to print quality table tents and table toppers designed to promote menu items and limited time offers (LTOs) to guests. Custom table tents can be designed and printed in several different ways. Due to Trabon's vast experience, our print specialists can work with you to design and print a custom table tent promoting your speciality food or drink items.
Table Tent Printing
Table tents are often printed on two sides with the ability to fold into a triangle, allowing the table tent to stand on its own. It is important to consider a paper stock or finish that can withstand the level of activity a table tent encounters. Table tents are handled quite frequently and constantly bumped by plates or drinks that may soak onto the table tent. Selecting a paper or coating finish that is durable will ensure your table tents withstand frequent use, while also maintaining a quality that continues to promote the specialty food or drink option. Trabon Group provides custom restaurant table tent printing and design services.
Table Topper Printing
Table toppers are similar to table tents, however, table toppers do not stand on their own. Often, table toppers are printed inserts that fit into a plastic display that sits on the table. The plastic table topper display is designed to protect the insert from liquids or dirt that may erode the quality of the printed promotion over time. Table topper inserts are often printed and cut into single sheets before being placed into the table topper display. Trabon Group provides table topper insert printing, as well as services to procure the table toppers themselves.
QR Code Menu Prompts
If you are looking for QR Code menu management or printed table tents to display QR codes to your customers, Trabon has experience with both. Trabon can produce QR codes as well as version and print high quality table tents for hundreds of locations.
Interested in Ordering Table Tents or Table Toppers?
Trabon Group can work with you to print custom table tents or table toppers for your restaurant brand. If you have questions about your current printed table tents or you are seeking to find something new, please reach out to our team today!