Print Menus Drive Higher Revenue
The need for efficient and effective menu management, presentation and publishing has never been more important. While labor and supply chain issues will take time resolve, protecting profitable sales and maximizing traffic is well within every brand's control.
It's been interesting to watch our brand partners methodically return to quality printed menus. Brands are returning to full color multi-page presentations because in many dine in environments, they drive higher guest check and visit satisfaction. Last week Nation's Restaurant News reported that BJ's Restaurants Inc. is bringing back physical menus because they expect them to generate higher check averages. BJ's Greg Levin has said that a physical menu is worth about 70 cents more per average check than a QR code accessed menu.
With this return to print comes an ever greater need for menus to meet the unique sanitation, longevity and brand positioning needs of each restaurant. With almost 50 years of menu production expertise, Trabon is uniquely positioned with the knowledge and experience to help ensure your printed menus perform exactly as needed.
Call to us today for help identifying the best paper, ink, and coating/lamination/cover combination for you brand.
Rest Easy with Trabon.
Request a Menu Sample Kit!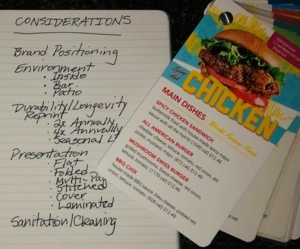 Complete this form and we will ship you (at no cost) a sample kit containing 12 different menu samples.